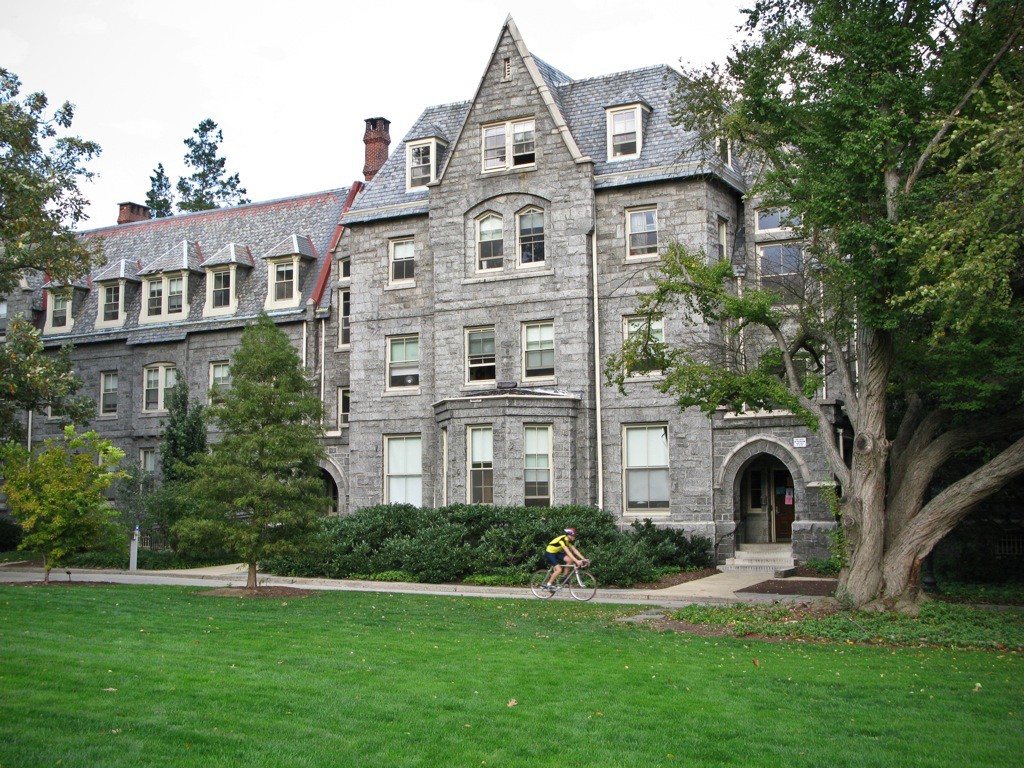 Haverford College was founded in 1835 with 21 students enrolled from the national orthodox faction of the Society of Friends. The students arrived at the college from New England, New Jersey and Ohio. By 1880, there were 71 students enrolled, mostly from the Philadelphia area, although a few travelled from New England and the Midwest.
One of the features of the campus, designed by William Carvill, was a maple allee along College Lane. In 1902, an ice storm destroyed many of the trees, prompting the formation of the Campus Club. The club's objectives were to preserve the college lawn while also cataloguing rare trees and shrubs. They also planned to stimulate an interest in ornithology by attracting birds to the campus and provoke an interest in forestry in general. The Smith-Magill Garden was completed in 1903, one of the earliest projects the club undertook. It was created in memory of Mary Newlin Smith, a beloved college matron and one of the founders of the group. When the Magill library expanded, the original garden was removed and a successor garden located near the stone arch remnants of Carvill's greenhouse was rededicated in 1984.
In keeping with the college's strong support of nature, C. Cresson Wistar, an alumni from the Class of 1865, donated seven American elm grafts that were descendants of the Penn Treaty Elm, which Penn signed the treaty with the Native Americans. Six of the trees fell victim to Dutch Elm disease, but one of the original seven still stands on the campus.
Women were admitted as transfer students in 1976 and, in 1978, students passed a resolution urging the college to become co-educational. However, it was not until 1980 that women were admitted as undergraduates.
Today, there are almost 1,200 students attending Haverford and the college is consistently ranked among the top academic institutions in the country. The college has partnership agreements with nearby Bryn Mawr and Swathmore Colleges as well as the University of Pennsylvania.
Students are required to adhere to a strict Honor Code, eliminating the need for RAs in dorms and allowing 24-hour lab access as well as no admission deposit requirement. The community is close-knit with 98 percent of students and 61 percent of faculty living on campus. The campus is just eight miles from Philadelphia, the fifth largest city in the country, allowing students social, historical and cultural experiences.
Haverford College Accreditation Details
Haverford College is accredited by the Middle States Commission on Higher Education. Regional accreditation means that Haverford meets the rigorous standards required by the Middle States Commission. This means that students are provided with higher education that meets a standard of excellence as set forth by the commission.
Haverford College Application Process
In order to apply to attend Haverford College, students must complete the Common Application and the personal statement that is included in that application. Students must also complete the Haverford Common Application Supplement and the Honor Code essay. ACT or SAT scores must be provided as well as a school report with the most recent transcript included. A school profile and counselor report is also required. Students must provide two teacher evaluations as well. Some programs may also require supplemental materials.
Transfer students must complete the Common Application and personal statement as well as the Haverford Common Application Writing Supplement. ACT or SAT scores are optional and are not required if they were not taken in high school prior to attending another college or university. Students must provide a transfer college report and transcripts from all colleges or universities attended. Students must also provide two faculty recommendations. A student is considered a transfer student if they have completed at least one year as a full-time student at a college or university. Students must enroll as full-time students and spend a minimum of two years at Haverford. Haverford does not offer graduate degrees and does not accept students who have already obtained a bachelor's degree.
<!- mfunc search_btn -> <!- /mfunc search_btn ->
Haverford College Tuition and Financial Aid
Full-time tuition for Haverford students is $48,656 per year. Approximately 56 percent of students receive some form of financial aid and more than 50 percent receive a college grant. The average grant award is $40,014. Financial aid is awarded based on need through a formula developed by the college. The college meets 100 percent of demonstrated need and they are committed to minimizing student debt. Students must complete the Profile Application and submit it to the College Board as well as the Free Application for Federal Student Aid (FAFSA) in order to be qualified for aid.
Haverford College Online Degrees Available
Psychology
The Psychology program at Haverford College provides students with an understanding of human behavior that supports their ability to help others through scientific knowledge. Students master theoretical concepts in order to understand behavior using scientific methodologies commonly employed during the study of behavior. Students learn how biology, cognitive function, society, personal and cultural factors can affect the psychology of individuals as well as groups.
Students are required to complete one semester of introductory psychology and experimental methods and statistics. In addition, students must take six additional psychology courses from each of the following groups:
Social and Personality Psychology
Biological Psychology
Cognition
A full-credit 300-level course such as a seminar
Students are able to take some advanced courses through Bryn Mawr's Psychology Department, but should discuss those courses with an advisor before registering to be sure they meet Haverford's criteria.
There is a research component required as well to train students to think scientifically about approaches to psychological issues. Students are required to complete one semester of Experimental Methods and Statistics in order to learn the principles of statistics and research design. Students must complete labs that put statistical techniques they have learned in lectures into practice.
Courses required for the program include, but are not limited to:
Foundations of Psychology
Experimental Methods and Statistics
Abnormal Psychology
Memory and Cognition
Cultural Psychology
Health Psychology
Cognitive Neuroscience
Environmental Psychology & Conservation
Laboratory in Memory and Cognition
Neurobiology of Disease
Laboratory in Cultural Psychology
Anxiety Disorders and their Treatment
Evolutionary and Comparative Psychology
Social Psychology
Psychology of Language
Psychology of Judgment and Decision Making
Stress and Coping
Not all classes required for the major are offered online at Haverford, although partnering colleges such as Swarthmore or Bryn Mawr may offer online courses that are transferrable.
Haverford College, located just outside Philadelphia, is a leading liberal arts college known for academic rigor, a strict Honor Code and a beautiful arboretum campus.
<!- mfunc search_btn -> <!- /mfunc search_btn ->