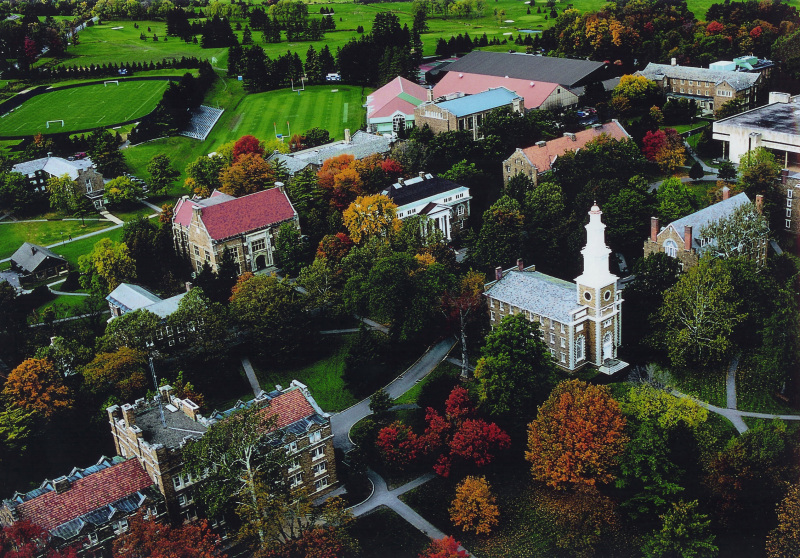 Hamilton College was born in the wake of the American Revolution as white settlers moved from the New England states into central New York in search of new opportunities. Samuel Kirkland, a missionary to the Oneida Indians, drew up a plan for a school that would serve both the Oneida population and the children of the white settlers.
Mr. Kirkland presented his plan to President George Washington who approved it and to Secretary of the Treasury, Andrew Hamilton, who not only approved it but agreed to serve as a trustee. The school was named in his honor, known as the Hamilton-Oneida Academy. In 1794, a cornerstone was laid, overseen by a delegation of Oneida Indians, by Baron von Steuben who had been the inspector general of the Continental Army.
Although the school remained in existence for almost 20 years, it never met the goals that Mr. Kirkland hoped to accomplish. Few Oneida's attended the school and it became predominately an educational facility for the white settlers in the area. In 1812, few years after the death of Mr. Kirkland, the school transformed into Hamilton College. It was the third college established in the state of New York and is among the oldest in the nation.
Prior to the Civil War, the school began to flourish and continued to operate throughout the war, unlike many colleges which were forced to shut down. However, the college adhered to a traditional classical curriculum with the all-male student body required to be well-versed in Greek and Latin in order to be granted entry into the school. These languages were part of the curriculum as was philosophy, religion, history and mathematics. This was typical of higher education institutions of the time, but Hamilton also placed strong emphasis on rhetoric and elocution, making public speaking an important tradition at the school and one that remains a tradition even today.
The chapel which stands on the on the central quadrangle today was the location for a lesson each morning, normally provided by the college president. The requirement to attend chapel has long since been eliminated at Hamilton and students are no longer required to study by lamp or keep warm with fires fueled by wood gathered in the morning. However, because there was little to do socially outside of campus, students at Hamilton became some of the first college students to create literary societies dedicated to declamation and debate.
After World War II, enrollment expanded due to the G.I. Bill. This expanded studies in social sciences and courses that included anthropology, economics along with government were added. In 1968, Hamilton established a sister institution, Kirkland College. The curriculum at the sister college was designed specifically with women in mind, but students were able to attend either Hamilton or Kirkland. The two schools even shared the Burke Library. In 1978, the two schools merged, although Kirkland still lives on in its performing and studio arts programs.
Today, more than 1,800 students attend Hamilton College and 100 percent of students live on campus. At least 100 students have won Fulbright Awards and 18 have one Goldwater Scholarships since 2000.
Hamilton College Accreditation Details
Hamilton College is accredited by the Middle States Commission, an independent organization who assesses institutional effectiveness and student learning. Achieving regional accreditation means that Hamilton College meets or exceeds rigorous standards set forth by the commission and provides excellence in education.
<!- mfunc search_btn -> <!- /mfunc search_btn ->
Hamilton College Application Requirements
Incoming freshman should complete the Common Application for Hamilton College and provide the applicable fee. Students must also submit a counselor and teacher evaluation as well as a personal essay and official high school transcripts. Students must provide standardized test scores and an interview is strongly recommended.
Transfer students must also complete the Common Application and pay the applicable fee. Students must provide official college transcripts, a transfer mid-term report, a transfer college report, a transfer instructor evaluation and official high school transcripts. In addition, transfer students must provide official SAT or ACT scores. An interview is optional but encouraged.
Hamilton College Tuition and Financial Aid
Full-time tuition at Hamilton College is $49,010. Financial aid is available. In 2008, Hamilton decided to focus primarily on need-based aid and eliminated merit scholarships in order to honor a long-standing commitment to meet the full financial need of all students admitted. Financial aid is available in the form of scholarships and work-study. Hamilton does offer federal direct loans as well. Students must complete the Free Application for Federal Student Aid (FAFSA) in order to qualify for any financial assistance. Hamilton only includes subsidized loans in their financial aid packages. Students are able to borrow unsubsidized loans based on family need. The average student indebtedness after graduation is between $16,500 and $20,000.
Hamilton College Online Degrees Available
Psychology
Psychology is the study of the human condition, focusing on the human mind, which is one of the most complex and fascinating organs on the planet. Students develop knowledge about forces and influences that shape the mind, brain and human behavior. Students learn through classroom study, laboratory work and field study.
Students begin with Introductory Psychology, which covers all areas of the discipline. Neuroscience and Statistics/Research Methods begin to lay the basis for their field of study. Students may choose from a variety of electives, including Child Development, Adult Psychopathology and Social Pathology. Students are required to complete an advance laboratory course as well as a course in research design that provides the groundwork for a senior project.
Students must complete a research project that culminates in a written thesis and an oral presentation. Students work closely with a faculty advisor in order to synthesize and focus what they have learned in previous classwork.
Although there may be courses offered at Hamilton in an online format, the majority of the program must be completed on campus. The program consists of nine 100- 200-level courses, one laboratory course and four additional courses at 300-level or above.
Hamilton College has a long history of providing excellent education to students of multiple cultures and backgrounds. The college has a rich background in speech and debate, adding to the education of students who attend. Although Hamilton College has a limited number of online courses available, students can choose a flexible schedule that will meet their needs.
<!- mfunc search_btn -> <!- /mfunc search_btn ->