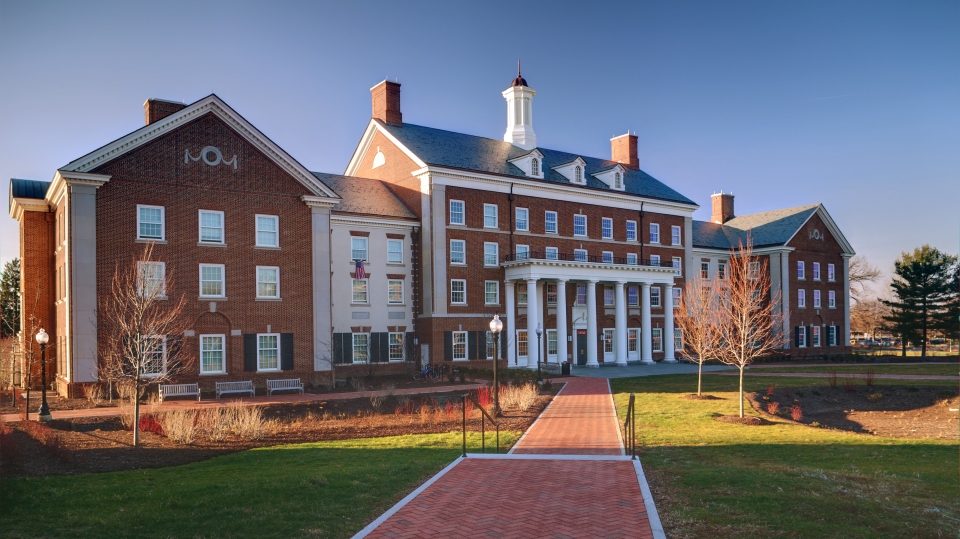 Educational programs that served the needs of diverse communities began the story of Franklin and Marshall College. Founded in 1787 as Franklin College by collaboration between Benjamin Franklin and the English and German communities, the college was the first bilingual institution of higher learning in the country. It was supported by leaders from the Lutheran and Reformed Churches, four signers of the Declaration of Independence, two Constitutional Convention members, and several high ranking politicians and Revolutionary Army personnel. Their ideals spurred a legacy of promoting relevant, high-quality academics and experiential learning to develop personal potential and the desire among graduates to improve the quality of community life through their careers. In 1853, Franklin College merged with Marshall College, a school named for the noted Supreme Court Chief Justice John Marshall that shared many of the same educational ideals. Together these two schools expanded their educational outreach as Franklin and Marshall College.
Today, a commitment to community service remains popular in trending F&M majors such as psychology, business management, political science and government, economics and multidisciplinary studies. Regionally and nationwide, F&M earns consistent recognition among institutional peers for academic excellence, best value and alumni satisfaction as reported by U.S. News & World Report, Forbes, Washington Monthly, The Princeton Review and College Factual.
Franklin and Marshall College: Accreditation Details
Franklin and Marshall College holds Carnegie classification as a baccalaureate institution and maintains regional accreditation from the Middle States Commission on Higher Education. F&M also adheres to Pennsylvania's higher education regulations regarding programs in education, counseling, business and emergency medical services, to name a few. F&M curricular studies build upon industry standards to provide undergraduates with the required competencies to move ahead with graduate work at other recommended post-secondary institutions or to meet professional certification and licensure requirements.
Franklin and Marshall College: Application Requirements
All applicants to F&M complete a common application. Requested information and requirements include the following:
Official transcripts from high school or high school equivalency programs
Official transcripts from accredited colleges attended if a transfer student
Verified SAT or ACT scores submitted directly from ETS or ACTS to F&M*
Two teacher evaluations who taught junior or senior level high school classes
Written personal statement about topics listed from choices on Common Application
Personal interview conducted at F&M, regional locations around the country, or via SKYPE
Non-refundable, $60 admission fee**
Non-refundable, $500 enrollment fee for incoming, first-year students, transfers or re-admissions to reserve placement**
*Applicants who feel that standardized test scores do not accurately represent their academic capabilities can opt to submit two graded writing samples with teacher comments from their junior or senior years in high school.
**Applicants can apply for waivers to these fees based on economic hardship.
Additionally, international students or ESL students with less than three years of
schooling in the U.S. should submit:
TOEFL or IELTS scores to establish English proficiency
Passport or visa documentation
Verification of financial status
<!- mfunc search_btn -> <!- /mfunc search_btn ->
Franklin and Marshall: Tuition and Financial Aid
Tuition for a full-year program of two semesters at F&M averages $50,300. Students can also expect the following expenses:
All first-year students are required to live on campus, which can run between $7,500 to $8,500 a year depending on the type of dwelling and number of occupants.
Meal plans range between $1,395 and $2,610 per semester depending on plan type.
Full-time students need to pay $1,800 for health insurance unless they are already covered under an approved policy. An additional health services fee of $100 per year is also assessed.
Students pay a one-time orientation fee of $200 during their first semester of classes.
Realizing that students may need assistance to meet financial obligations, F&M offers a Tuition Management System that provides monthly tuition payment options to spread out payments over eight, 10 or 12 months. In addition, F&M fully participates in all Federal, state and local tuition assistance programs. It also provides its own university scholarships and grants. Eligible students can apply for the following financial aid opportunities:
Federal Student Aid (FAFSA)
Federal Pell grants
Federal Supplemental Educational Opportunity Grant
Federal PLUS parent loans
Federal Stafford or Perkins loans
Federal Work Study Program
Teacher Education Assistance for College and Higher Education Grant
Pennsylvania State Work-Study Program
Pennsylvania State Grant Program
Pennsylvania Partnerships for Access to Higher Education
Pennsylvania Ready to Succeed Scholarship Program
More than 50 F&M fellowship and scholarship opportunities
Psychology Major at Franklin and Marshall
F&M's baccalaureate in psychology explores behaviorist and empirical approaches to understanding human nature, assessing problematic behaviors and implementing appropriate treatment plans. Degree completion requires a minimum of 32 course-credits with each course assigned a credit value from one half to two credits each. A one-credit course could meet once a week for 170 minutes, twice a week for 80 minutes per session, or three times a week for 50 minutes each.
Essential program components cover general education requirements in English, social sciences, natural sciences, math and approved electives. Upper-level studies develop broad aspects of psychology history, theory and practices. Students can expect to study the following trending subjects and topics in the field:
Psychology history and principles
Experimental design and statistics
Sensation and perception
Biopsychology
Neuroscience
Development and cognition
Health psychology
Personality and psychopathology
Social and cross-cultural psychology
Evolution of mind and intelligence
Animal behavior
Conditioning and learning
Embodied cognition
Program goals at F&M strive to instill a love for critical thinking and collaborative action that allow graduates to excel in their careers while making meaningful contributions to society. To that end, graduates with a psychology degree can continue on with master's work that prepares them for professional licensure and certification or begin entry-level human services careers as:
Social work assistants
Mental health technicians
Community health clinicians
Forensics technicians
Social justice advocate
Special education assistants
Human resources technicians
Research assistants
Marketing or sales representatives
Business training consultants
For those interested in pursuing careers that help people overcome problems and improve their daily lives, exploring what a psychology major from Franklin and Marshall College can offer may be worthwhile to consider.
<!- mfunc search_btn -> <!- /mfunc search_btn ->