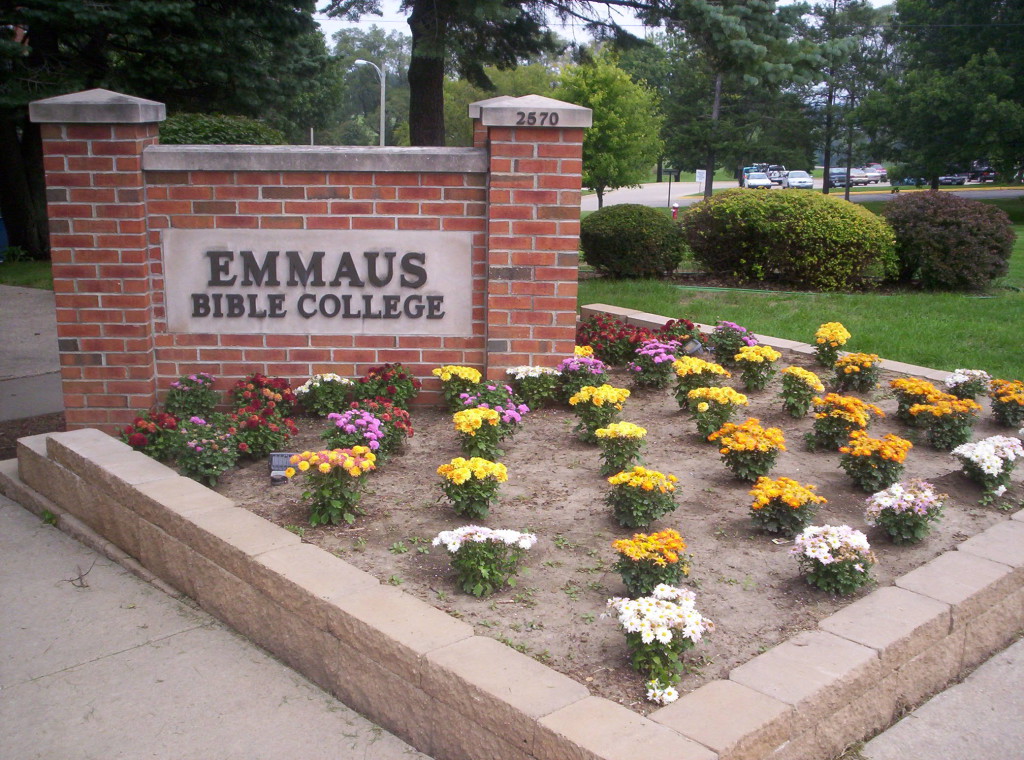 If you want a Christian education aimed at equipping you for careers with a ministry slant, you may want to consider Emmaus Bible College. This Iowa school was founded in 1941 by the Open Brethren Church as the Emmaus Bible School, and in 1984 it became Emmaus Bible College. Emmaus offers double majors in Biblical and professional studies. Half of the college's student population comes from an Open Brethren Church background. Studies available at the school include: Bible and Theology; Business Administration; Computer Studies; Counseling Psychology; Educational Ministries; Intercultural Studies; Music; teacher Education; nursing and a two-year college transfer degree with a Bible double major. The Emmaus Bible College campus is located in a facility that was once a Roman Catholic school. The college has some intercollegiate sports.
Emmaus Bile College Accreditation Details
Association for Biblical Higher Education (national accreditation)
North Central Association Higher Learning Commission
Approved by the State of Iowa department of Education
Emmaus Bible College Application Requirements
Applying to Emmaus is a simple process that can be completed entirely online or you can print the documents and submit them through the mail. You will need to complete the application form; at present, the $25 application fee is being waived. The college requires a reference of your Christian character from a church or youth leader or from an educator. This reference cannot come from a family member. The reference form can be printed and sent, or taken, to the person of your choice, or it can be sent electronically for them to complete online. You must also request your high school to send your official transcript to Emmaus. That applies to GED or home schooling transcripts as well.
If, however, you have completed 48 or more college credits, you do not need a high school transcript. You will need, instead, a college transcript for any courses you have taken at a post-secondary institution. These should be sent directly to Emmaus by the school. You will also need to have the testing agency send the results of your ACT or SAT to the college. If you have taken 24 college credits, you will not need to submit the ACT or SAT scores. The last thing on the checklist of application requirements is a medical form; you will need a complete physical examination.
<!- mfunc search_btn -> <!- /mfunc search_btn ->
Tuition and Financial Aid
Tuition for all traditional students is $15, 100 for two semesters. If you live on campus you will also pay for room and board, which currently runs around $6,800. There are student fees of $820, bringing the cost for on-campus students to $22,720 and, for off-campus students, to $15,970. Online tuition is $250 per credit. In addition, you will need to account for books, estimated at $125 per course, and class materials. Online students pay a technology fee of $15 per course as well.
The cost of getting a higher education can mount up quickly. If you need help to pay these expenses, you should complete a FAFSA, or Free Application for Federal Student Aid. Your financial information, and that of your family, is used to calculate the amount you are expected to pay toward your education at the college of your choice. That amount is subtracted from the actual costs of the school to calculate your financial need. You will then be approved for one of several federal assistance programs including the Pell Grant or the Supplementary Educational Opportunity Grant, Stafford loans and work-study programs. Emmaus College does not currently participate in the work-study program.
After you get your award letter, you can apply for the institutional scholarships available through Emmaus Bible College. The Trustee Scholarship, for instance, has a value of $8,000 a year. There are also Presidential, Dean's, Scholastic and Achievement scholarships with values ranging from $2,000 to $6,000 annually. The school also has a Christian Character scholarship that awards up to $10,000 and an International Student scholarship with a value of up to $6,000. In addition, there are state grants, usually for first-year students. An Internet search will yield other scholarship opportunities sponsored by individuals and by corporations and professional organizations. Each of these will have separate requirements such as essays or memberships, and you will apply for them individually. If you find there is still a gap in your financing, you might consider a student loan. These are available to students and/or their parents at low interest rates. If you get a student loan, you will probably not have to begin repaying it until sometime after your graduation, giving you time to get a job.
Online Degrees Available
This school has a long history of offering correspondence education. Emmaus began serving military students with this type of "distance education" a year after it opened. The school has continued the program, though today it is offered online. The distinctive mark of an Emmaus Bible College online degree is the integration of Bible teaching with world perspectives and professional knowledge and skills.
Emmaus is ranked as the top small college for counseling degrees and is in the top 50 for affordable online degrees. Several programs are offered in the online format; one of these is the Bachelor of Science in Bible/Theology and Counseling Psychology. This is a 128 semester hour program for which you may apply at the beginning of your sophomore year. It is intended for those who want to use their counseling skills and competencies in a ministry. If you want to apply to the program, you must have a 2.0 minimum GPA for your freshman year. You may transfer some credits, but a minimum of 64 credits must be earned at Emmaus. There are 42 credits of Bible/Theology classes, including: Old Testament Survey, I and II; New Testament Survey; Hermeneutics and Theology, I, II, III, and IV. The degree also consists of 44 credits in the counseling component, such as: Counseling Foundations; Multicultural Counseling Techniques; Crisis Intervention Counseling and Abnormal Psychology. If you want a career where you can minister your faith through your profession, this might be the perfect degree for you, and Emmaus Bible College might be the perfect school.
<!- mfunc search_btn -> <!- /mfunc search_btn ->