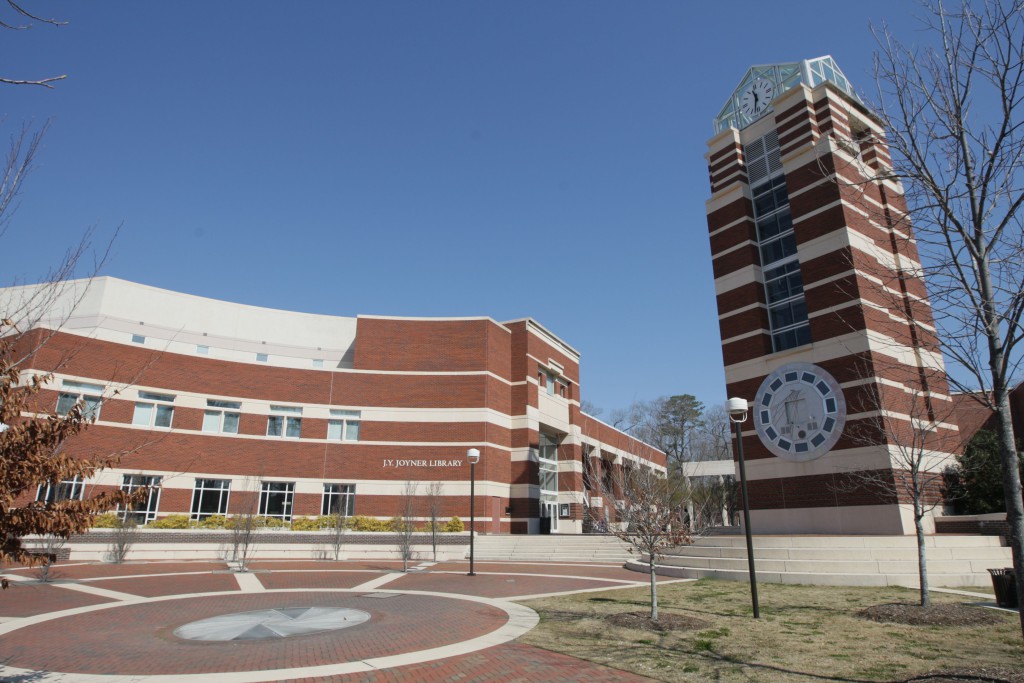 East Carolina University was founded as the East Carolina Teacher's Training School in 1907. Initially, the school provided education to teachers. However, the college can actually trace its roots to 1901 when the City of Wilson petitioned the North Carolina General Assembly for a teacher's college in Wilson. However, the legislature denied the request as they did not want to reduce funding for the State Normal College that already existed. Another request from Elizabeth City was denied in 1905, but a measure passed in 1907 when legislators established an act to create the East Carolina Teacher's Training School. At the time, $15,000 was appropriated to fund the school with a $5,000 stipend also appropriated.
Greenville was chosen as the location of the new school, with the city offering $100,000 in bond less the cost of land and a bond election expense. The first student enrolled at the school in 1909. At the time, the school had six buildings that included two dormitories, an administration building, a power plant, an infirmary and a dining hall. Tuition was free for students who pledged to teach for at least two years and $45 for all other students. There were 104 women and 19 men enrolled by the time the school opened and 16 students graduated from the first class in 1911.
When enrollment at the school passed 1,000, the Board of Trustees voted to change the name of the school to the East Carolina Teacher's College. The school gained university status in 1967 and, in 1972, the university joined the University of North Carolina system.
East Carolina University Accreditation Details
East Carolina University is accredited by the Commission on Colleges of the Southern Association of Colleges and Schools. Accreditation demonstrates that the university meets or exceeds standards set forth by the accrediting agency that students will receive the highest quality education available. Teaching programs at the university are accredited by the National Council for the Accreditation of Teacher Education as well.
East Carolina University Application Requirements
Undergraduate freshmen who wish to enter East Carolina University must meet high school graduation criteria in English, math, science, social studies and foreign language. In addition, students must complete an online application and pay the applicable fee. Students must provide an official high school transcript that shows senior year courses and their current grade point average. Students must also provide official transcripts from any colleges or universities you have attended along with SAT or ACT scores.
Students who have earned college credit from another college or university must complete the online application and pay the applicable fee. In addition, they must submit official transcripts from all colleges and universities attended. Students must have a 2.5 GPA from all post-secondary institutions attended and have completed at least 24 credit hours in order to be considered a transfer student.
Graduate students who wish to attend East Carolina University must complete an online application and pay the applicable fee. Students must submit official transcripts from any college or university you have attended and one transcript must reflect the awarding of a bachelor's degree or higher. Students whose bachelor's degree was awarded more than ten years prior to their request for admission may not be required to submit transcripts from colleges or universities where they did not earn a degree. Students must provide official GMAT, GRE or MAT scores unless their bachelor's degree was awarded more than ten years ago. Students should discuss test score and transcript requirements with a graduate school admissions counselor. Specific programs may have other documents that must be submitted prior to enrollment as well.
<!- mfunc search_btn -> <!- /mfunc search_btn ->
East Carolina University Tuition and Financial Aid
Tuition for North Carolina residents at East Carolina University is $519.62 per credit hour and for non-residents $2,466.37 for undergraduate resident studies. Resident graduate students who are residents of North Carolina pay $554.25 per credit hour and non-residents $2,129.50. Undergraduate tuition for online courses is $140.44 per credit hour and graduate online tuition is $217.35.
Financial aid is available through the Office of Financial Aid. Students may be eligible for grants, scholarships, loans or federal work-study programs based on their family income. Students must complete the Free Application for Federal Student Aid (FAFSA) in order to qualify for financial aid at the university.
East Carolina University Degree(s) Available
Psychology, BA
East Coast Carolina University offers a Bachelor of Arts in Psychology program that requires students to have a cumulative GPA of 2.0 in general education studies prior to applying for the program. Students are prepared for entry-level positions in careers that focus on the mental health of individuals and communities. Courses required for the degree program include:
Introduction to Psychology or Honors Introduction to Psychology
Psychological Statistics
Research Methods in Psychology
Psychology of Learning, Cognitive Psychology or Learning Theories and Applications
Introduction to Neuroscience, Neuropsychology or Sensation and Perception
Students must choose two courses form the following:
Developmental Psychology
Social Psychology
Psychology of Personality
Abnormal Psychology
Introduction to Psychological Testing
Students must also choose one of the following:
Advanced General Psychology
Advanced Topics Seminar
History of Psychology
Senior Thesis/Project
Senior Honors Thesis
There are also general electives required for students to complete the program.
Psychology, General Theoretic, MA
The Master of Arts in Psychology program at East Carolina University is designed for students who wish to apply psychological expertise to situations involving human resources. Students must complete an internship between the first and second year of the program. The program does not guarantee acceptance into the health psychology doctoral program so students must apply for acceptance into the Ph.D. program.
Courses required include:
Psychology of Organizational Behavior
Issues in Personnel Selection
Special Topics in Industrial and Organizational Psychology
Methods in Human Measurement
Statistics and Research Design
Advanced Research Design
Ethics and Professional Practice
In addition to an internship, students are required to present a thesis in order to complete the degree program. There are also 15 semester hours of electives required to complete the degree.
Students who are interested in careers designed to address mental health issues in individuals, workplaces and communities will find highly-qualified programs through East Carolina University. In addition, East Carolina University offers online courses that allow those with family, work or social obligations to achieve their higher education goals in a more flexible format.
<!- mfunc search_btn -> <!- /mfunc search_btn ->