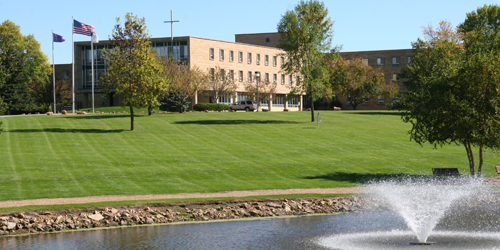 Originally named St. Paul Bible Institute, Crown College was founded in 1916 with a strong Christian emphasis that it upholds today. This private, four-year school serves about 1,300 students and offers more than 40 accredited programs at various levels. As a member of the Christian and Missionary Alliance denomination, Crown College believes in promoting "Christ-centered education, academic excellence, and global connections" according to its website. The school's stated purpose is to prepare students for "lives of outstanding service and leadership."
Interested students should note that they will need to be professing members of the Christian religion since the application requires a personal essay and statement of faith. The school takes religion seriously, and employees must also affirm their faith. This means that students will learn from faculty with strong religious views, and the educational curriculum will represent these views.
Crown College has received consistent praise by publications such as U.S. News and World Report, Money Magazine and Christian Universities Online. Money Magazine recently ranked the school among the top 50 for value, and U.S. News and World Report consistently includes Crown College in its list of the best colleges and universities in the Midwest. The school's close proximity to Minneapolis provides students with the chance to enjoy the benefits of extracurricular activities.
Crown College Accreditation Details
Crown College has been fully accredited by the Higher Learning Commission of the North Central Association of Colleges and Schools. The school also holds accreditation from the Commission on Collegiate Nursing Education for its undergraduate nursing programs. For students interested in teaching programs, Crown College has been approved by the Minnesota Department of Education and the Minnesota Board of Teaching. Other programs offered by the school have not been accredited by individual commissions.
Crown College Application Requirements
Prospective students must submit a standard application, which is available online, along with a "Spiritual Life Essay" and a "Statement of Faith." In order to attend, students must be practicing Christians. The essays ask personal questions related to the student's current religious worldview, and the faith statement assumes several tenets within the Christian religion. For the application portion, students will need to provide:
Biographical information such as name, birth date and age
Information regarding any previous education completed
Church information, including location and denomination
Miscellaneous personal information
The university also offers a form for interested students to fill out requesting more information on the application process. First-year students who want to attend classes on campus will follow a similar approach to apply, but they need to create an account with the school's application system first.
<!- mfunc search_btn -> <!- /mfunc search_btn ->
Tuition and Financial Aid
For the School of Online Studies, undergraduate students will pay $415 per credit during the 2015-2016 academic year. There's also an application fee of $20 and a technology fee of $100 per semester. A standard bachelor's degree, then, would cost about $51,875 excluding the technology and application fees. Because Crown College is a private university, fees are higher than they might be for a public institution.
While the cost to attend Crown College might seem high, the school's tuition rate is about 20 to 40 percent lower than other similar schools in the area. Prospective students are encouraged to apply for financial assistance. Types of aid available include:
Federal and state loans
Loans via private lenders
Institutional aid packages
Crown College has been ranked by the Council of Christian Colleges and Universities as one of the 10 most affordable Christian schools in the Midwest. Most of the school's student body receives financial aid, and as of the 2012-2013 academic year, out-of-pocket expenses averaged just over $10,000. For many students, applying for financial aid is essential for keeping costs down.
Online Degree Focus: Psychology/Counseling B.S.
Students who want to pursue a counseling program at the undergraduate level can enroll in Crown College's online Bachelor of Science in psychology and counseling. It's a joint degree program with a focus on Christian counseling. According to the school's website, graduates of the program should gain a better understanding of "human behavior and development, listening and assessment techniques, counseling theory, and skill building." Because of Crown College's strong Christian focus, students who enroll in this degree track should note that religious faith inspires the curriculum. Nevertheless, graduates will be prepared to enter the workforce in a variety of settings, both Christian and secular.
Crown College's B.S. in psychology is one of the few in the country that is both Christ-centered and offered exclusively online. Students gain the benefit of learning from experienced and licensed practitioners via the convenience of a virtual setting. The degree requires completion of at least 125 credit hours designated as follows:
Christian studies –- 15 to 21 credits
General education courses –- 31 credits
Psychology and counseling core –- 39 credits
General electives –- 43 credits
Courses cover a wide range of topics within the field of psychology, and general courses also provide students with a broader perspective than they might find at other schools. For example, Christian core courses cover topics such as systematic theology, apologetics, and global and ethical leadership. Psychology core classes discuss issues such as personality theories, crisis intervention, marriage and family counseling, and research methodologies in the social sciences. For students who want to help people with addictions or those suffering from substance abuse, the school allows psychology majors to add a minor in Drug and Alcohol Counseling.
As a discipline, psychology offers people the chance to explore a wide range of career options, including counseling, human resources and ministry work. At Crown College, students will gain exposure to a unique perspective on the field of psychology as the school approaches the subject from a Christian standpoint. Undergraduate students here benefit from a practical education combined with a spiritual influence. With its rich history of educational excellence and host of accolades from prestigious publications, Crown College offers a well-rounded experience for prospective psychology majors.
<!- mfunc search_btn -> <!- /mfunc search_btn ->