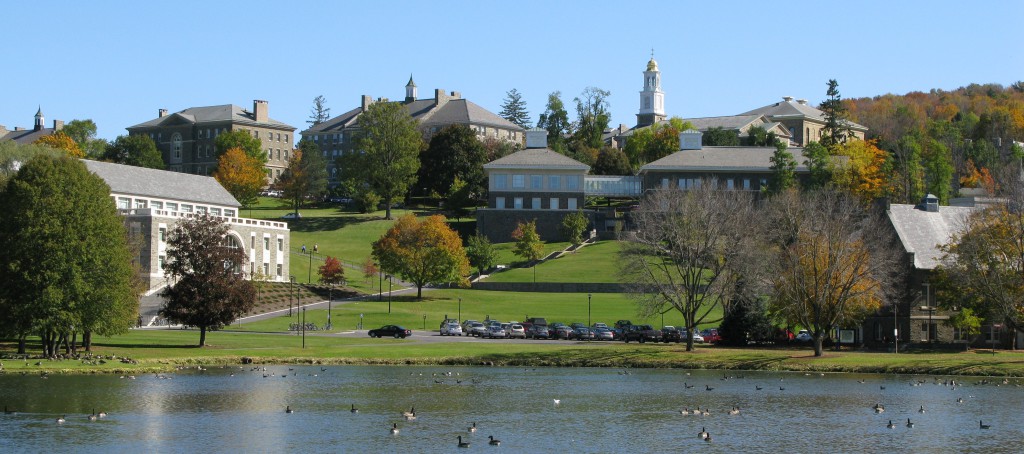 Located in the small town of Hamilton Village in New York, Colgate University is a private university with a total enrollment of around 3,000 students. Just a handful of those students take courses beyond the bachelor's level, but the school encourages students to better themselves and go onto graduate school after leaving the university. Established in 1817, it took two years before the campus was formally announced and another year before classes started. Operated by the Baptist Education Society, the college initially only offered religion and theology programs, which led to it merging with a nearby theology school. The college officially changed its name to Colgate University to reflect the large donation and the help that William Colgate gave to the college during its early years.
Less than 28% of all students who apply to Colgate University receive acceptance, and a smaller number of those students actually choose the university. Approximately 95% of incoming students graduated within the top one-fifth of their classes in high school, and more than 80% of new students were at the top of their graduating classes. Forbes ranked Colgate within the top 15 liberal arts colleges in the country, and U.S. News and World Report called the campus one of the top 10 liberal arts schools in the nation.
Colgate University Accreditation Details
Colgate University has regional accreditation from the Middle States Commission on Higher Education. This type of accreditation allows students to transfer credits they obtained at other accredited colleges to programs at the university and to transfer classes they took at Colgate to other accredited schools. Colgate, like other colleges accredited by this organization, must apply for renewal every 10 years or less, and the university received its renewal from that organization with each application. Incoming students may also wonder if the university has any other types of accreditation.
The campus does have accreditation from specialty organizations for certain programs available online or on campus. Its main specialty accreditation comes from the Teacher Education Accreditation Council, which grants the school the right to award degrees to students who complete the curriculum associated with its education programs. This accreditation also applies to the only graduate program the school offers, which awards graduates with a master's degree in education with a concentration or specialty in teaching.
<!- mfunc search_btn -> <!- /mfunc search_btn ->
Colgate University Application Requirements
As Colgate University is quite selective, students will find that the university looks at a number of factors when determining the worthiness of those applying for admission. In addition to high grade point average, the university also requires that students show the work and experiences they did outside of school. They may include after school activities that students participated in, including sports, drama club and debate team, but it may also include volunteer work that students did. The university also asks that students submit four key pieces of information when applying.
All students applying for admission must complete the online application, submit scores from standardized tests like the ACT or SAT, complete the university supplement form and pay a $60 application fee. Those who have financial problems can contact the school and request a waiver, which lets them apply without paying this fee. The supplement form allows the university to gain additional information that might help students stand out that is not on the application form itself. All students who applied will receive a letter that informs them if they received acceptance, are on the wait list or were turned down for admission. Students can also check online and find that information before they receive a letter in the mail.
Tuition and Financial Aid
The total cost of attending Colgate University, which includes the cost of a meal plan and a room on campus, comes in at around $62,000 a year. After paying for textbooks and other supplies, students will find that the price increases to around $64,000 a year. This figure also includes the fees that students pay for using the university's technology and other associated fees. Students can also pay a little less than $1,000 a year for health insurance through the university. Though students can save money taking online classes, the university still charges the same rate per credit hour for online classes as it does classes taken on campus. Tuition costs come in at nearly $25,000 each semester.
Colgate University recommends that students complete and file the FAFSA as soon as possible after receiving an acceptance letter, and students can apply for financial aid at the same time they apply for admission to the university. All students, including online students, are eligible for a grant from the university and a loan through the school. Students taking classes on its campus also qualify for work study programs. The federal government also offers assistance to undergraduate students in the form of grants, subsidized loans and unsubsidized students loans.
Psychology Degrees
The Department of Psychology on campus is responsible for the undergraduate psychology degree program. All students must take an introduction to psychology course before finishing up their sophomore year and declare a major in psychology before continuing with the program. They must also take three core courses on research methods, biological psychology and quantitative psychology. The remaining courses they take prior to graduation must include both lower and upper level courses on topics like cognitive, social and abnormal psychology, but the university also offers a number of electives that students can take. One of the last courses that students take is a senior research program. This allows students to create a final paper that shows the knowledge and skills they gained as a psych major. Students may also have the option of doing an internship in lieu of taking this class.
Every student enrolling in the psychology program must maintain a grade point average of 2.0 or higher in all psychology courses they take. Those who fall below this GPA will land on academic probation and may find themselves barred from the program. Students who maintain a grade point average above 3.5 are eligible for an honors degree. Colgate University also has a psychology honors program that is open to psych majors with a GPA of 3.0 or higher that lets them study psychology topics outside of the classroom and meet with alumni working in the field.
<!- mfunc search_btn -> <!- /mfunc search_btn ->