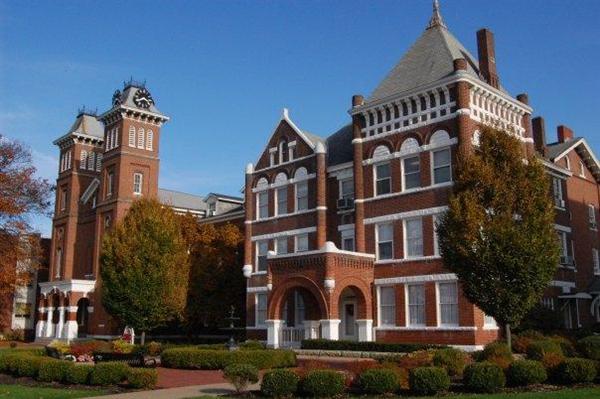 California University of Pennsylvania began in 1852 as a normal school established to offer practical education to citizens. Located in the town of California, so named to commemorate the pioneering spirit of the Gold Rush era, the school quickly became a co-educational, integrated institution that allowed prospective learners from all backgrounds a pathway to higher education. In 1865, the school became the South-Western Normal College of Pennsylvania and in 1928 was reincorporated as the California State Teachers College. Through the turbulent decades of the Great Depression, World War II and the Korean War, the college continued to develop undergraduate and graduate degree programs in career areas that could benefit their community and the nation. The school evolved into the California State College in 1960 and became the California University of Pennsylvania in 1983.
True to the pioneering spirit of its original founders, CAL U continues to blaze trails through innovative programs based on academic and research foundations that encourage student achievement and inspire community service through meaningful 21st-century careers. To accomplish these goals, the university has established programs that accommodate diverse learning needs via flexible learning formats in trending fields of science, technology, liberal arts and professional studies. These formats include curricular coursework instructed through traditional on-campus classes or online presentations through CAL U's proprietary Global Online program. Global Online has garnered recognition from U.S. News & World Report, which places CAL U nationally at No. 82 for online undergraduate degrees and at No. 35 for online graduate programs. Popular fields of online study include education, forensic science, nursing, sports management and counseling, and exercise science and health promotion.
California University of Pennsylvania: Accreditation Details
As a regionally accredited school by the Middle States Commission on Higher Education, California University of Pennsylvania can confer undergraduate, graduate, professional and online degrees. CAL U also holds important program accreditation for various majors and professional studies as granted by the American Physical Therapy Association, Commission on Collegiate Nursing Education and the National Council for Accreditation of Teacher Education. Special curricular approval is also granted by the the National Academy of Sports Medicine for degree programs in exercise science and health promotion.
California University of Pennsylvania: Application Requirements
Applicants in any degree program should submit
Completed online applications;
Official educational transcripts, GED certificate or degrees from previous schools;
Verified SAT, ACT, GRE, GMAT, TOEFL or other requested tests scores;
Application fees that range from $25 to $50 depending on degree level and status as a domestic or international student.
Prospective graduate students should check specific program requirements for enrollment. These can vary by department or field of study and may include such things as submitting recommendations, completing written essays or providing verified degree documentation to determine if prerequisite studies are in place. Additionally, international students must send all transcripts as English certified translations that verify the equivalent of degree coursework earned in the U.S.
<!- mfunc search_btn -> <!- /mfunc search_btn ->
Tuition and Financial Aid
CAL U earns a No. 3 slot for offering affordable, quality education by the SR Education Group, which conducts nationwide surveys about online education resources. The university also receives recognition from The Princeton Review for being one of the Northeast's most affordable colleges. Costs per credit hour for undergraduates are $284 for residents, $426 for non-residents, and $554 for international students. Credit hour costs for graduates are $454 for residents and $681 for non-residents. Programs taken 100 percent online generally have the same fee structures, but may vary according to the number of credits taken or program level. Fees associated with provision of services, technology, and and university operations are determined by degree level, full-time or part-time status, residency status and program type. Eligible students can also apply for a full range of financial aid services:
Federal Student Aid
Federal Work Study
Federal Pell Grant
Federal TEACH Grant
Federal Supplemental Educational Opportunity Grant
Pennsylvania State Grant
Pennsylvania State Grant Special Programs
Athletic Grant-in-Aid
CAL U Institutional and Endowed Scholarships
Pennsylvania State System of Higher Education Scholarships
Postsecondary Educational Gratuity Program
Pennsylvania Chafee Education and Training Grant Program
Educational Assistance Program for Pennsylvania National Guard members
Federal Stafford or Perkins loans
PLUS Parent loans
PLUS Graduate loans
Available Online Degrees
CAL U provides a wide range of online degree choices for careers in trending fields. These degrees build upon employment and industry statistics that indicate increased demands by employers for more highly qualified personnel in those occupations. For example, the Bureau of Labor reports that job positions for athletic trainers and exercise physiologists are expected to rise 19 percent by 2022. In response, CAL U has developed a cutting-edge Master of Science in Exercise Science and Health Promotion with concentrations in Wellness and Fitness, Rehabilitation Science, Wellness Coaching, Sport Performance Enhancement and Injury Prevention, or Sport Psychology.
Of particular appeal to many is the sport psychology track, which emphasizes evidence-based psychological perspectives and practices designed to address target performance behaviors and inclusive approaches to recovery treatments. This degree concentration can increase competitive employment or career advancement opportunities for those working as personal trainers, health and fitness experts, coaches, military leaders, health care workers or rehabilitation therapists. Graduates learn how to identify precursors to injuries, develop injury prevention protocols, understand how injuries affect recovery, and teach safe ways to enhance physical performance.
The 36 credit Master of Science in Exercise Science and Health Promotion with a concentration in Sport Psychology encompasses 24 credits in core degree coursework and 12 credits in specialized content. Studies from core material cover these topics:
Exercise science and wellness
Anatomy and human movement
Endurance training
Nutrition and peak performance
Exercise physiology
Physical assessments
Exercise plans and treatment prescriptions
Wellness in industrial, clinical and corporate settings
Business and entrepreneurial practices
Professional leadership development
Candidates then take coursework specific to the Sport Psychology concentration. These courses investigate psychological aspects of sports injuries and the rehabilitation process, how people perceive sport performance enhancement, injury intervention protocols, and trending sport psychology topics and research. Upon degree completion, graduates are prepared to sit for the Certified Specialist in Speed and Explosion exam overseen by the National Association of Speed and Explosion. As demonstrated by this Global Online master's program, California University of Pennsylvania offers prospective students flexible, high-quality educational opportunities to attain professional career goals.
<!- mfunc search_btn -> <!- /mfunc search_btn ->