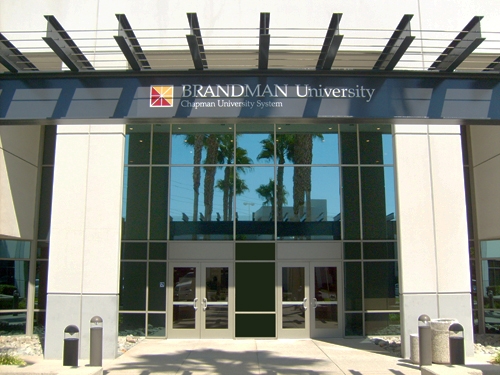 Brandman University entwines its foundations with Chapman University, a well-established private California institution dedicated to providing the community with quality higher education degree programs. Chapman began its journey in 1861, and as it expanded, saw a need for a separate school that could address the community's diverse student population. In 1958, Brandman College was founded specifically to serve military personnel at El Toro Marine Corps Air Station. Over time, the college grew and became an accredited institution for adult learners from all backgrounds. To help this process, Brandman developed technology-driven distance-learning formats that benefited professionals desiring career advancement or career changes. Now anyone could access educational programs to earn bachelor's, master's and doctoral degrees in trending occupations. Today, Brandman consistently ranks in U.S. News and World Report for offering some of the best online programs at the bachelor's and master's levels. The university also boasts a 70 percent graduation rate that outranks the national average.
Brandman University: Accreditation Details
Brandman receives its regional accreditation from the Western Association of Schools and Colleges (WASC) Senior College and University Commission. The school also retains affiliations with the following professional organizations:
Council for Adult and Experiential Learning
National Association of Institutions for Military Education Services
Professionals in Human Resources Association
Council of Colleges of Arts and Sciences
Association of American Colleges and Universities
American College of Healthcare Executives
Accreditation is granted to Brandman for educational programs in all formats including online. The university also abides by state authorizations for distance education instruction in all 50 states.
Brandman University: Application Requirements
Since Brandman's programs are meant for working professionals who already have some college experience or hold associate or undergraduate degrees. Entrants need a minimum of 12 transferable baccalaureate-level credits to apply for undergraduate programs.
Each degree program at Brandman varies with regard to admission requirements. Enrollment coaches can assist prospective students to identify which requirements relate to a program of interest. Those entering bachelor's programs must supply official transcripts for previous college courses from accredited institutions and carry a minimum cumulative 2.0 GPA Applicants for graduate programs should submit documentation according to one of the following options:
Official verification of 30 semester hours of coursework with a cumulative 3.0 GPA towards an undergraduate or graduate degree from an accredited institution
Transcripts for 30 semester hours of coursework taken from an accredited institution towards an undergraduate or graduate degree with a cumulative GPA between 2.5 and 2.99 accompanied by a satisfactory score on the GRE, GMAT, CSET, or MAT exams
Possession of a master's degree or higher conferred from a regionally accredited institution.
Portfolio submission containing professional writing samples; a detailed educational and work resume; professional development transcripts; achievements or recognitions; letters of reference from professors or employers about work ethic and abilities for graduate work; and a personal statement regarding professional goals related to earning a master's degree
Enrollment coaches can help determine if previous college courses may be applied as credits towards a degree. Credits may also be applied from qualifying scores on approved Advanced Placement (AP), College-Level Examination Program (CLEP), or Defense Activity for Non-Traditional Education Support (DANTES) exams. International students complete the same admissions process as domestic applicants. They must also submit a valid visa and officially translated educational transcripts, which are then evaluated by Brandman University.
<!- mfunc search_btn -> <!- /mfunc search_btn ->
Brandman University: Tuition and Financial Aid
Basic tuition expenses at Brandman are:
$500 per credit for undergraduate courses,
$610 per credit for graduate courses,
$950 to $1,070 per credit for doctoral courses.
Active duty military personnel and their spouses pay reduced rates per credit of $250 for undergraduate courses, and $350 to $440 for graduate ones. All eligible applicants can apply for the following financial aid opportunities:
Federal Student Aid, called FAFSA
Federal Pell Grants
Federal Supplemental Educational Opportunity Grant
Federal PLUS Graduate Loans
William D. Ford Federal Direct Loan Program
Federal Stafford or Perkins Loans (subsidized and unsubsidized government loans)
Federal Work Study Program
GI Bill Education Benefits Program
Military Tuition Assistance (active duty personnel)
Veterans Affairs Benefits Program
State Scholarship Programs (non-California residents)
Organization Tuition Assistance (employer sponsored programs)
Brandman University Move Up Scholarship
California residents can apply for:
California State Aid, Cal Grants A or B
California Chaffee Grant for foster youth
California Child Development Grant
California National Guard Education Assistance Award Program
Online Bachelor of Arts in Psychology at Brandman University
Working in human services requires the ability to understand human nature and apply strategies to resolve conflicts through mediation. These essential skills form the basis of Brandman's online BA in Psychology, which emphasizes using psychological principles to diagnostically assess human behavior and design appropriate therapeutic treatments. The 120-credit degree covers general education requirements and broad aspects of psychological theory through upper-level studies in
History and systems of psychology
Scientific writing for behavioral and social sciences
Statistics and behavioral science research methods
Critical thinking and problem solving
Human development across the lifespan
Abnormal psychology development and behaviors
Physiology and social psychology
Students can also concentrate the degree in one of four areas:
Generalist, covering trending theories, assessments, treatments and counseling techniques applicable to all settings
Pre-clinical, emphasizing learning, personality and child development applicable to therapeutic or educational settings
Industrial/Organizational, focusing on psych assessments, leadership, group dynamics, career development, and personnel psychology applicable to workplace or group settings
Child Psychology, specializing in cognitive behaviors, child development, pediatric neuropsychology, applied behavior analysis, and preferred behavior enhancement techniques applicable to clinical, residential and educational settings.
Graduates with this degree can begin entry-level human services careers as:
Social justice or legal advocates
Forensics technicians
Social work assistants
Mental health technicians
Special education aides
Human resources clerks
Community health clinicians
Research assistants
Marketing or sales representatives
Training consultants for businesses
Additionally, the degree provides solid foundations for further graduate studies to prepare candidates to become licensed psychology practitioners as private practice counselors, clinical psychologists, educational psychologists, forensic psychologists or industrial/organizational psychologists. For a versatile degree that offers flexible scheduling to accommodate professional work obligations, the online BA in Psychology from Brandman University could be a great way to start a fulfilling new career.
<!- mfunc search_btn -> <!- /mfunc search_btn ->