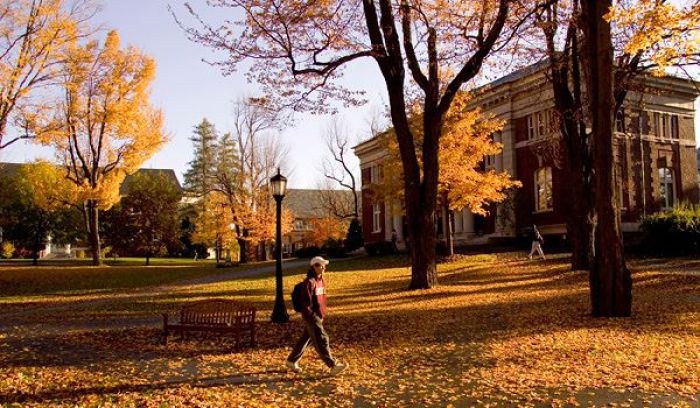 Established in 1855, Bates College has a long and interesting history. A group of abolitionists living in Maine saw the need for an institution of higher learning that offered all students the same opportunities, regardless of skin color or gender. From the moment the campus opened, it accepted both female students and African American students who were denied admission to other schools. It quickly developed a strong reputation as offering opportunities to former slaves who could not attend school elsewhere. Despite many Baptists serving on its Board of Directors and other church goers helping found the school, Bates College opened itself to students from various religions and backgrounds.
Though it is not an Ivy League school or a member of the Public Ivy schools, the college has an acceptance rate on par with many of those schools. Fewer than 18% of all students who apply receive an acceptance letter. Many of those students graduated at the top or within the top 10% of their classes. Despite its selective admissions policy, Bates ranks highly both for its affordable tuition rates and for its number of classes and programs. U.S. News and World Report included Bates on its list of the best 25 liberal arts colleges in the nation, and Princeton Review ranks it as one of the most affordable colleges. Bates also uses a 4-4-1 school year, which requires that students take two full semesters of classes and one shorter set of classes that last for just one month.
Bates College Accreditation Details
Thanks to its strong reputation, Bates College ranks as one of the top colleges in the Northeast, and many compare the campus and its offerings to the larger college of Boston University. The college originally asked for accreditation in 1929 and gained accreditation from the Commission on Institutions of Higher Education, which is a regional organization affiliated with the New England Association of Schools and Colleges. The organization requires that Bates renew its accreditation and pass an in-depth examination every decade. To meet its goals, the college designates its own internal department, which is responsible for ensuring that the college meets the minimum requirements for accreditation. Though Bates College does not have any program or specialty accreditation for its individual degree programs, it does strive to meet the needs of all new students and current students.
<!- mfunc search_btn -> <!- /mfunc search_btn ->
Bates College Application Requirements
Bates College uses the Common Application system, which is a system designed to let students apply to multiple colleges and universities at the same time. Instead of applying to each college separately, students can create one account on the website and apply to any school registered with the system. Bates requires that all students use this online system and does not accept any type of paper application. The Common Application system asks basic questions relating to a student's background, hobbies, interests, grades and past studies. Bates also requires that students mail or submit some other information and documents as well.
The first of those documents is the answer to a question of why they want to attend the college. The essay responses students write gives the college familiarity with both their writing and grammar skills. Students can complete the essay after adding Bates to the list of colleges they want to apply for in the system. Applicants must also send in two letters of recommendation from their high school teachers and a letter of recommendation from a guidance counselor. An official high school transcript and $60 applicants fee are other requirements. Those applying for an arts program will need to submit a portfolio of their artwork. Some students may also find it helpful to include their test scores from the SAT or ACT.
Tuition and Financial Aid
As one of the Princeton Review's "Best Value Schools," Bates College works hard to keep tuition costs low for all incoming students. The price of tuition, a room on campus, a meal plan and associated fees is around $62,000 a year, and students are responsible for books and other fees that add $2,000 or more to their tuition costs. Students entering the college who do not have health insurance must also purchase coverage. Health insurance is available through the school for less than $2,000 a year. Though the price of tuition might seem high, Bates offers a number of options for students who cannot afford that cost.
Students can sign up for a payment plan that lets them make one smaller payment every year for 10 months. They can also apply for financial aid and show that they need financial help through the FAFSA. Bates has its own grant program that it awards to students who demonstrate a proficient need for help, and it can make other arrangements for students who need additional help. Students who complete the FAFSA may qualify for grants, subsidized student loans, unsubsidized student loans and parental loans. Bates can also help students obtain private loans and enroll in one of its work study programs.
Psychology – Academic Program
Bates College developed its psychology academic problem to help students better understand why and how individuals think and act. Though some students later earn graduate degrees in the field, other students go right to work as social workers, career counselors, probation officers and in similar fields. The main requirements for graduation include the completion of a principles of psychology class, a biological psychology class, an elective, at least one research course and a statistics class. Though students must follow the 4-1-1 yearly schedule, psych majors can only use one course taken during the shorter term to fulfill the requirements of the program.
Students must also select a concentration in a specific aspect of psychology and take a minimum of three courses within that concentration. All students must take at least one course in cognition and emotion, biological and health, developmental and personality and cultural and social. They can then select a concentration in a separate field of psychology. Bates added a thesis component to this program that requires students complete four additional steps, including researching the work others did, doing their own research, reviewing their work and taking a capstone course. Bates College also allows psychology majors to gain course credit for study abroad programs and for internships.
<!- mfunc search_btn -> <!- /mfunc search_btn ->