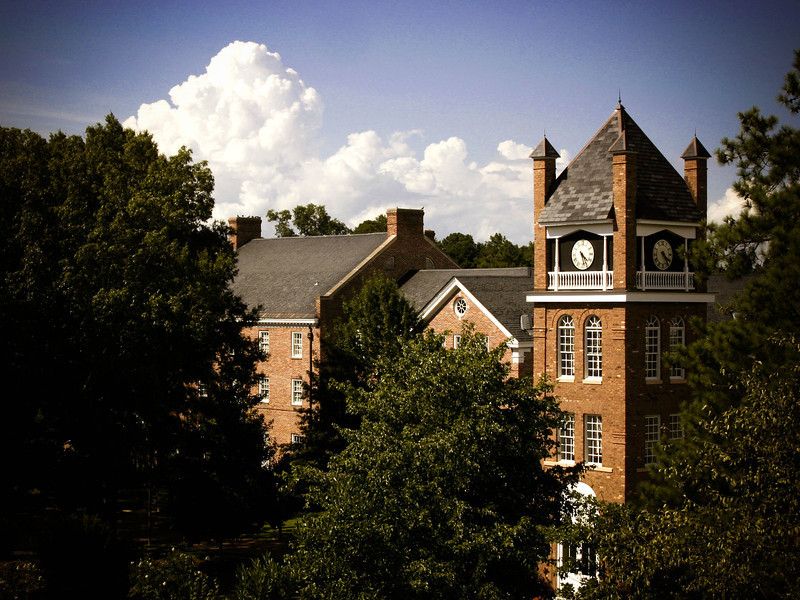 The Kinsey Seminary was a small school located in Wilson, North Carolina that closed its doors at the turn of the century. The North Carolina Christian Missionary Convention purchased the old seminary and decided to turn it into a small college that would combine faith and education. Then known as the Atlantic Christian College, the school officially opened in 1902. Though it retained its connection with the original convention, the campus also developed an affiliation with the Disciples of Christ Christian Church in later years. The name Barton College, which it adopted in 1990, comes from the founder of that church.
Barton College believes that everyone should have the right to higher education. It established its Division of Lifetime Learning, which provides older students with more educational opportunities. The college also created a distance learning program. Though originally launched as a way to help students earn credits studying from home during summer break, the program later evolved into an online program that is open to students across the country. Princeton Review once named it the best college in the American southeast, and many credit that honor with its low class sizes. With fewer than 1,200 students taking classes on campus, most classes feature just 11 students for every professor. Though the college watched its enrollment rate grow in recent years, it retains its low class size, which lets students focus more on their studies and form good relationships with other students and their professors.
Accreditation Details
Barton College sought accreditation during its early years because it wanted students to know that the college worked hard to provide them with all the resources and opportunities they needed. Its main accreditation comes from the Southern Association of Colleges and Schools Commission on Colleges. This organization routinely checks the college and conducts research to ensure it maintains its accreditation. Barton College also has accreditation for some of the unique programs it offers students. Its education program, which prepares students for teaching in North Carolina and other states, has accreditation from the National Council for the Accreditation of Teacher Education and the North Carolina Department of Public Instruction. Other accreditation comes from the American Medical Association, Committee of Allied Health Education, North Carolina Board of Nursing and the North Carolina Association of Colleges and Universities.
<!- mfunc search_btn -> <!- /mfunc search_btn ->
Application Requirements
All students applying for admissions must meet some basic requirements before completing an application. Barton College asks that applicants have at least 13 credits of college prep courses, including four years of English, three years of math and social sciences, two years of natural sciences and at least one foreign language credit. Students must have a grade point average of 2.3 or higher on a 4.0 scale and take the ACT or SAT. After ensuring that they meet these requirements, students can complete the online application. This is a basic application that asks them simple questions about what they want to study, the classes they took and their backgrounds. Students will then need to request their scores from the SAT or ACT and official high school transcripts sent to the college. It's generally best to finish the application before sending in any supplementary materials.
Barton College carefully reviews every application it receives and uses an admissions board to determine whether to grant acceptance to each student. Those accepted will receive a letter to the address the college has on file, and they can view their acceptance details online as well. Those who receive an acceptance letter will need to fill out the FAFSA and send the college a deposit. The deposit holds their spot until the college receives the student's financial aid or payment.
Tuition and Financial Aid
The average price of attending Barton College and living on campus is around $18,000 a semester, and the cost of attending the college is around $37,000 a year. Students living on campus are responsible for a room and meal plan, which costs more than $9,000 a year. Those who live off campus and take online classes are responsible for paying their tuition and fees, which equates close to $28,000 a year. Barton encourages all new students to fill out and submit the FAFSA as soon as possible after receiving an acceptance letter. The amount of financial need a student demonstrates on his or her application determines the amount of aid and type of package they receive.
Approximately 98% of all students at Barton receive some type of financial aid, and the average size package awarded to students is more than $22,000 a year. The most common types of aid given to students include loans, scholarships, grants and work study jobs. Scholarships and grants award students money they do not need to pay back unlike loans. Once a student receives an acceptance letter, the student can begin applying for scholarships through the school. Barton will notify students regarding the amount of aid they will receive once the college processes their applications and FAFSA forms.
Online Degrees Offered
Psychology Program
The Bachelor of Science in Psychology program at Barton University is a general program that introduces students to a wide range of psychological topics at the same time that they learn scientific methods and research techniques. The main program consists of 13 core classes on topics like learning and motivation, experimental design, developmental psychology, biological foundations of behavior and abnormal psychology. Students must also take some general education classes that let them learn about science, math, history, philosophy and other subjects. At Barton College, professors encourage psychology students to do at least one internship while in school. Former students worked for organizations like the Wilson Police Department, Autism Society, Brian Center and Wesley Shelter.
Students will finish out their studies with several electives. In addition to classes taken in other department, psych students can take electives on unique topics like sports psychology and the psychology of aging. The last two required courses include one on research methods and a senior thesis. The research methods class teach students different ways of researching topics and the publications and resources available to psych majors. In the Barton College senior thesis class, students must develop a unique topic of their own and spend a semester researching that topic and writing a paper based on their research.
<!- mfunc search_btn -> <!- /mfunc search_btn ->