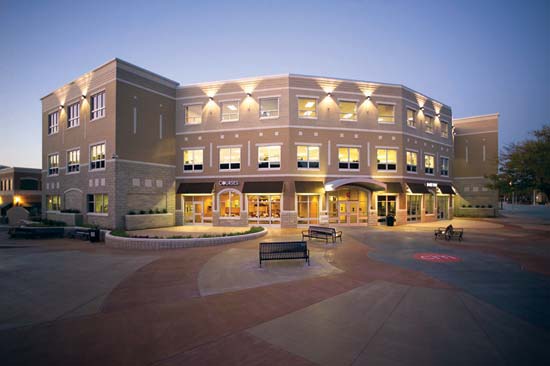 Baker College gets its name from Eldon E. Baker, a local Michigan resident who saw the need for a business college that catered to students living in Michigan. Baker dreamed of a college that would allow students to study locally and would provide future opportunities for trained business men and women. When it opened in 1941, it went by the name of Baker Business College, but this name would change less than 30 years later. Muskegon College acquired the school and turned it in to a junior college that focused on topics outside of business.
Baker is now one of the largest chains of non-profit colleges. It has campuses in more than 10 cities across Michigan, including Flint, Jackson, Cass City and Auburn Hills. The Michigan Association of Collegiate Registrars & Admissions Officers (MACRAO) Transfer Agreement added Baker College to its program in the hopes of helping students complete their education. This program allows students to save money taking general education courses on a Baker College campus and transferring all or most of their courses to another school within the program. Though some of its campuses have low graduation rates, this is because so many students transfer to another school before graduating.
Baker College Accreditation Details
The United States Department of Education prohibits schools that do not have accreditation from awarding government funds to students. Students who attend a college that does not have accreditation do not qualify for grants, loans or any other types of financial aid. When a school goes through and successfully passe the accreditation process, it shows that it commits a high level of care to its students. Those students are better prepared for working in their career fields, have a deeper understanding of topics relating to their studies and have more experience than students who attend other types of schools.
The Higher Learning Commission awarded Baker College accreditation for its traditional campus programs and later granted accreditation to its online programs. The HLC used several factors before awarded the designation, including the plans Baker had for the future, the quality, experience and education of its faculty and the way it incorporated new technology into its programs. The business administration, early childhood learning, engineering and technology, health sciences and nursing programs have separate accreditation from organizations affiliated with each of those fields of studies. Baker continually receives accreditation every time it comes up for renewal, which occurs every five to 10 years.
<!- mfunc search_btn -> <!- /mfunc search_btn ->
Baker College Application Requirements
Most colleges and universities require a number of things for students applying for admission. Students generally need to submit test scores from the ACT or SAT, official transcripts that show they maintained a high grade point average in high school and an essay or personal statement. Baker College implemented a right to try policy that essentially states any student has the right to higher education. This policy allows students to apply for admission without taking a standardized test or completing an essay. Students only need to fill out the application form and submit the form online with a $20 application fee payment. Students can also mail the application directly to the school and pay the application fee with a money order or check.
Baker College also admits students who do not have a high school diploma or GED. Those students will need to take a test before beginning classes that determines their strengths and weaknesses. Baker uses those results to decide which courses the student should take first and whether the student has a high likelihood of college success. Students who completed high school will need to mail in a copy of their high school transcripts, and those who have a GED will need to submit a copy of the score received on that test.
Tuition and Financial Aid
Baker College is one of the most affordable public colleges in Michigan and works hard to make classes more affordable for students. Both residents and nonresidents of the state pay just $230 per credit hour for each of the classes they take. Online students must also pay a $60 fee for taking an introductory course online that shows them the basics of using the online system and what they need to do when taking classes. Tuition for classes taken on campus range from $230 to $300 per credit depending on the course.
Even with such low prices, financial aid is extremely important to most students. Even those who save money and/or have a parental savings account may still find that college is more expensive than they anticipated. Students attending any accredited college or university like Baker College can apply for financial assistance after completing the Free Application for Student Financial Aid. This form allows students to demonstrate the amount of financial need they have based on the income available to them. Though grants and loans are the most common types of aid, students may also qualify for work study opportunities and scholarships. Scholarships can cover a small portion of the cost of college or the total cost of tuition.
Online Bachelor of Science in Psychology
The online undergraduate psychology program offered by Baker College meets the standards imposed by the American Psychological Association for all psychology programs. Online courses are available every semester, and students can enroll and start classes immediately after receiving an acceptance letter from the college. The program focuses on human development and the whys and hows of human thought. Students develop a deep understanding of human anatomy, how the brain functions and what can cause abnormal thoughts and behaviors through all stages of the life cycle.
Graduation from the psychology program requires the completion of 72 hours of general education courses, including composition, computer literacy, ethics and communications. Students also take 84 hours of psychology classes and 24 hours of electives. They can take additional psychology classes as electives or take classes on history and other topics that interest them. Some online students may opt for an internship during one of their later years. Baker College will work with those students to find internship opportunities in their own areas and ensure that they learn valuable knowledge that applies to their studies. Other courses in the Baker College online psychology program include child psychology, human relations, organizational psychology, human sexuality and learning and memory.
<!- mfunc search_btn -> <!- /mfunc search_btn ->