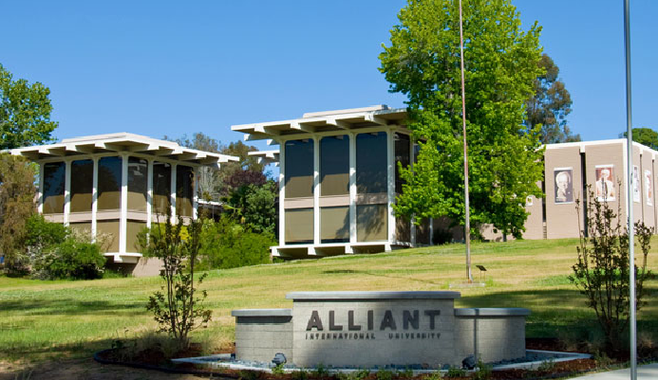 In 2001, two legacy schools merged to form Alliant International: the United States International University and the California School of Professional Psychology. In 2010, the university acquired the San Francisco Law School. Each of these legacy schools has a history of providing unique educational opportunities to non-traditional students. In fact, the San Francisco Law School, originally founded in 1909, was one of the first law schools to seek out women applicants.
Alliant International boasts a number of other firsts, including the first doctoral program in forensic psychology, the first alternative certification program for teachers in California, and the first U.S.-based doctoral program in clinical psychology to be hosted in Asia.
The school also maintains a strong reputation for providing degree programs and educational opportunities to minority students. Insight Into Diversity magazine awarded Alliant International with the Higher Education Excellence in Diversity award for three consecutive years between 2012 and 2014. In 2014, Diverse: Issues in Higher Education magazine ranked the school as a "Top Producer of Graduate Degrees for Minorities" in 24 distinct categories.
Today, Alliant International comprises five colleges in six California cities. Alliant considers itself a "professional practice" school, meaning that the programs and curriculum are designed to prepare students for professional careers. As such, students here will benefit from the school's stated philosophy of "theory and practice; scholarship and application."
At the San Diego campus of Alliant International, students can choose from 31 graduate programs. Graduate programs include educational psychology, school neuropsychology and business administration. At the undergraduate level, students can study child development, political science and criminal justice systems. Many of the school's programs may also be pursued entirely online.
Alliant International University Accreditation Details
Alliant International University is accredited by the Accrediting Commission for Senior Colleges and Universities of the Western Association of Schools and Colleges, an accrediting agency that also awards accreditation to many of California's most prestigious schools.
At the San Diego Campus, the doctoral programs in clinical psychology hold accreditation from the American Psychological Association. The Commission on Accreditation of Marriage and Family Therapy Education of the American Association for Marriage and Family Therapy accredits the school's graduate and doctoral programs in couple and family therapy.
Alliant International University Application Requirements
Undergraduate and graduate students can apply to Alliant International online, but students must submit all supporting documentation, including transcripts and resumes, via mail. Graduate programs require individual criteria depending on the type of degree. For undergraduate students, Alliant expects:
A finished application and nonrefundable fee of $65
All official transcripts
A minimum GPA of 2.0
Transfer students, international students and graduate applicants will submit additional documentation verifying information such as courses completed, residency status and matriculation records, respectively.
<!- mfunc search_btn -> <!- /mfunc search_btn ->
Tuition and Financial Aid
Program costs vary widely based on a student's individual program of study and other factors. Alliant offers a net calculator on its website so that students can estimate the cost of attendance. For example, a freshman student living off campus and enrolled in an undergraduate degree program will pay about $13,680 for tuition and fees each academic year. For graduate students, the cost depends on whether the student is attending an on-campus program. A graduate student who is pursuing a master's degree in organizational psychology at San Diego, for example, will pay $1,298 per unit.
To assist with tuition and fees, several options are available that could offset the cost of attending school. In addition to federal and private loans, grants and work-study opportunities, students can apply for one of the following institutional scholarships to help pay for college:
Alliant Scholarship
Diversity Scholarship
Alliant Scholarship Matrix
Jay Haley Scholarship
Founder Scholarship
Those who need financial assistance should contact Alliant's financial aid website to learn more about these various programs.
Online Degree(s) Available
Psychology majors will appreciate Alliant's standing as a leader in psychology education. According to the school's website, the California School of Professional Psychology "has trained nearly half of the practicing psychologists in California." Distinguished faculty, a diverse student body and flexible scheduling make Alliant an ideal place to pursue a psychology degree. The San Diego campus offers several degrees in the field of psychology and mental health, including a Ph.D. and Psy.D. in clinical psychology, a master's degree in couple and family therapy, a Psy.D. in educational psychology, and a master's degree in organizational psychology. Online, students can enroll in a program leading to a Master of Arts in Organizational Psychology.
According to Alliant's website, the demand for organizational psychologists is on the rise. Due to the need for these professionals, Alliant's fast-track program enables students to enter the workforce at an opportune time.
Organizational psychology uses psychological concepts and theories to improve the workplace. Graduates of Alliant's master's program in organizational psychology will be qualified to work for a variety of companies in a wide range of industries. The program takes about 18 months to complete on a full-time schedule, and it can be completed entirely online. Students must complete 50 units and 17 courses to earn the degree. Course topics include human resource management, organizational change and development, consultation and facilitation skills, and work motivation and productivity.
To qualify for the online Master of Arts in Organizational Psychology program, students need to hold a bachelor's degree from an accredited school and a minimum GPA of 3.0. They must submit an application, all official transcripts, two letters of recommendation, a personal statement, a resume, and a nonrefundable fee of $65.
Students can enroll in one of six entry points throughout the year. Classes are held in eight-week increments. During these eight-week sessions, students will take up to three intensive courses. While the program can be taken completely online, students can attend an in-person, five-day summer session that includes seminars and meetings with alumni, classmates, instructors and professionals in the industry. Whether enrolled online or on campus at Alliant University International, students who attend this school have access to a variety of educational and extracurricular opportunities.
<!- mfunc search_btn -> <!- /mfunc search_btn ->