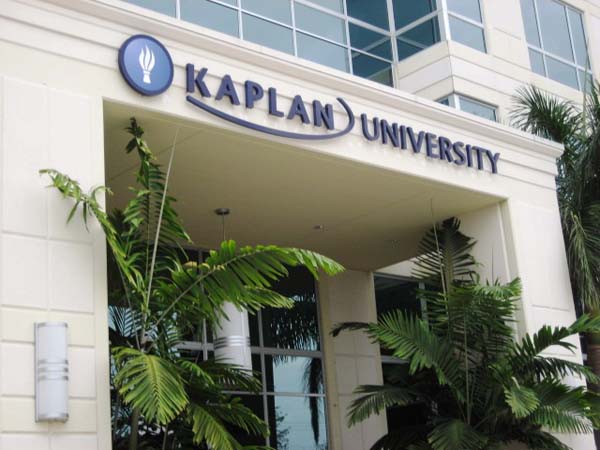 Kaplan University is a name given to a series of for-profit colleges and universities operated under the same name across the country and in some foreign territories. It began life as the American Institute of Commerce, which was a small college with an emphasis on business programs that a group of men founded in the 1930s. It later adopted the name Quest College to reflect its growth and the addition of new degree programs. Kaplan, which most knew for its college prep courses and examination preparation classes, acquired the chain of schools in the 2000s, which led to it becoming Kaplan College. Once it earned the right to award higher level degrees, it became Kaplan University.
Though Kaplan has its main headquarters and flagship campus in Iowa, it also operates 14 campuses in states like Ohio, Maryland, Wisconsin and Nebraska. Of the more than 40,000 students enrolled in the university, over half of those students take all their classes online. Kaplan also operates several educational centers in several states that offer students the option of taking courses both on campus and through its online system. Kaplan now offers associate's, bachelor's and higher level degrees in more than 10 different fields.
Kaplan University Accreditation Details
There is a big difference between regional and national accreditation. National accreditation often comes from private companies that accept payment and process an application without thoroughly investigating a school. Regional accreditation usually comes from an organization that specializes in granting accreditation. Though some of these organizations work with national agencies, regional accreditation is usually better than national accreditation. It means that the organization looked at the future plans of the school, its current reputation and what it hopes to achieve in the future. Accrediting bodies may also look at factors that impact students' futures, including graduation and job placement rates.
Despite some negative connotations associated with for-profit schools, Kaplan has accreditation from the Higher Learning Commission. The HLC operates six different regional branches across the country, and Kaplan has accreditation from those branches in each of the states where it operates. The Behavior Analyst Certification Board also granted Kaplan accreditation for its behavioral and social sciences programs, including its online degree in psychology. Students taking courses offered by other departments will find that the university has accreditation for six of its different programs, including its programs in education, legal studies, nursing and business and management. In addition to accreditation, it also has licenses to operate in more than 10 different states.
Kaplan University Application Requirements
Many colleges and universities have application deadlines that require students complete every step associated with admission prior to a certain date. Kaplan understands that students have other commitments and obligations that sometimes get in the way, which is why it has a rolling admissions policy. This policy allows students to apply at any point throughout the year and begin classes during the next semester. Other schools might prevent a student from enrolling in the following semester because he or she was late sending in paperwork.
Kaplan is also unique in that it doesn't have a large number of requirements that it imposes on new students. It only requires that students have a high school diploma or GED and a firm grasp on the English language. Students who use English as a second language may need to meet additional requirements before enrolling. The university also recommends that students visiting a local campus to learn more about the school and that they ensure they have the right type of computer and software available to them to complete their classes. Kaplan also asks that students take care of their financial aid before classes start and/or meet with an admissions counselor in person or over the phone.
Tuition and Financial Aid
Those planning on enrolling in Kaplan University should keep in mind that they are not eligible for federal aid as a new student. All new students enter as conditional students, which means that they must take one semester of classes and earn high grades in those courses before continuing. Students can then fill out the Free Application for Student Financial Aid. The FAFSA is available for free and gives students a detailed list of all aid available to them. The most common type of aid is a student loan, but both students and their parents qualify for loans. Students and parents who fall below certain income guidelines may also qualify for grants, work study programs and other types of aid, including loans from private lenders.
Kaplan works with several prominent private lenders who will loan money to students for their education and pay back those funds after graduation. Students currently enlisted in the military may receives veterans benefits as well. Kaplan estimates the highest price students will pay for tuition at more than $66,000 a year, but students may qualify for programs that drop that price to less than $17,000 a year. Scholarships and other financial assistance programs help bring down the cost that students pay.
Online Bachelor of Science in Psychology
Kaplan University begins a new enrollment period at least once a month, which makes it easy for students to enroll and begin their psychology studies. Online students must complete a total of 180 credits, which include 33 credits on core or general education studies. Many of these courses ensure that students understand the importance of researching topics, finding good sources and writing essays based on the information available. Nearly 90 of the credits that students earn come from fundamental psychology courses, including child psychology, the history of psychology and research and statistics. Kaplan also requires that all psychology students take a course on careers in psychology, which introduces them to the type of jobs found in psychology and the amount of education, training and experience they need for those jobs.
There are four different concentrations or study areas available in this program: applied behaviors, addictions, child development and industrial and organizational psychology. Students take four courses in the concentration to complete the requirements necessary for graduation. As with many psychology programs, there is also a capstone requirement. Students create a project or write a paper that shows the skills they gained while in the program. Kaplan University requires that all students complete a senior capstone project or paper.